Hakko FA-430 is a compact fume extraction system that is used to remove soldering fumes and toxic gases, making it safer for people to solder.
FA-430 Features
1. HEPA filter 
The HEPA filter in Hakko FA-430 is efficient in removing 99.97% of 0.3 μm particles. 
Filter Replacement 
It is important to replace the filter at the right time to provide the maximum performance. The FA-430 is capable of detecting the numbers of fan rotations and notifying the user of the appropriate time to replace the filter. 
 

Pre-filter 

When the pre-filter is 80% clogged or has been used for 200 hours, the orange indicator light will blink continuously. 

Main filter

When the 10th pre-filter needs to be replaced, the orange and red indicators lights will blink continuously. 
Pre-filter Installation 
Proper Installation 
Install the pre-filter inside the frame of the main filter (image 1) and ensure that there are no gaps at the corners (image 2). 
Improper Installation 
If the pre-filter is not installed properly, the main filter cannot perform at maximum. 
2. Quiet Operation and Powerful Suction 
The addition of a silencer unit ensures the exhaust outlet has smooth airflow out which can provide high suction performance and quiet operation.
| | | |
| --- | --- | --- |
| Airflow Modes | Noise Level dB(A) | Air Volume m3/min |
| High | 53 | 4.7 |
| Medium | 50 | 3.7 |
| Low | 44 | 2.8 |
*Values measured when the device was used with a 60 Hz power supply. 
3. Freestanding Ducts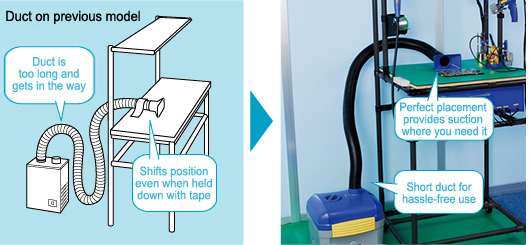 The Hakko-FA-430 is compact and lightweight, weighing only 7.5 Kg. The duct is shorter in length and can be easily adjusted to the desired position where suction is needed. The duct is only 1.2m long and weighs 0.6 Kg. The built-in handles also allow for easier handling. 
 Recommended angle to place the duct 
 
Duct mounted on the worktable can provide high suction performance. 
 Wrong placement of the duct 
Duct mounted at an angle above the workpiece can be easily affected by the air conditioning. 
Duct mounted directly above can make it difficult to see the workpiece. 
4. Airflow Modes Adjustment 
The Hakko FA-430 has three modes available (high, medium and low). The different modes can cater to the different worksites and jobs. 
Low Mode: Can be used in small and quiet locations that are not easily affected by the surrounding environment (priority in low-noise operation).
Medium Mode: For normal usage. 
High Mode: Can be used in locations that are significantly affected by the surrounding environment* (priority in suction performance).
*Surrounding environment refers to external factors that can affect the directions of the smoke flow. For example, high mode is recommended when the worksite is located near a doorway or near the exhaust outlet of a large machine.
---